POWER SWITCH™ is an explosive combination of ingredients designed to provide the ultimate training experience.
It contains a blend of Caffeine, Citrus Aurantium, Naturally Occurring L-Theanine, Taurine and Kudcha Tea. The powerful fast acting benefits will have you POWERED UP within minutes. 
 POWER SWITCH™ isn't done yet!! With the addition of Key Amino Acids and VASO6™ Things are just getting started and the flood gates are opened.
You can expect some NEXT LEVEL PUMPS leading to greater workout experience and faster nutrient recovery.

Our NEW FORMULA focuses on increasing performance and vasodilation (pump) with the addition of 3,000mg of Citrulline Malate, 2,000mg of Beta Alanine, Critical Co-Factors and and 300mg of VASO6™.
VASO6™ is a concentrated extract known as a gallate-enhanced oligomer procyanidin found in green tea or grape seed extract.
VASO6™ when dosed at 300mg boosts Nitric Oxide (NO2) 10X GREATER than 7g of Arginine. You can expect some POWERFUL PUMPSwith the NEW POWER SWITCH™ formula.
You will power through every rep and every set with INTENSITY you never thought possible.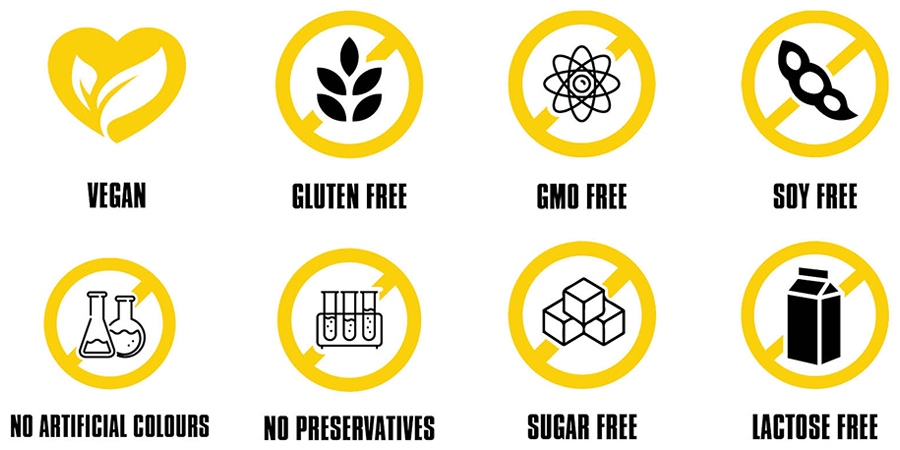 NOTE: DO NOT EXCEED MORE THAN 2 SCOOPS OF POWER SWITCH IN A 24 HOUR PERIOD!
The above information is merely a guide and is in no way a recommendation or a treatment protocol for any health conditions or diseases. You should always consult with a qualified health care provider before changing your supplement, training or nutritional strategy. Supplementation should not be attempted by pregnant or breastfeeding women, anyone on prescription medication or children under the age of 15 unless advised by your qualified health care provider.
Power Switch
{"id":1807127380013,"title":"Power Switch","handle":"power-switch","description":"\u003cp\u003e\u003cstrong\u003ePOWER SWITCH\u003c\/strong\u003e\u003cstrong\u003e™\u003c\/strong\u003e is an explosive combination of ingredients designed to provide the ultimate training experience.\u003c\/p\u003e\n\u003cp\u003e\u003cspan\u003eIt contains a blend of Caffeine, Citrus Aurantium, Naturally Occurring L-Theanine, Taurine and Kudcha Tea\u003c\/span\u003e\u003cstrong\u003e.\u003cspan\u003e \u003c\/span\u003e\u003c\/strong\u003e\u003cspan\u003eThe powerful fast acting benefits will have you\u003c\/span\u003e\u003cstrong\u003e\u003cspan\u003e \u003c\/span\u003ePOWERED UP\u003cspan\u003e \u003c\/span\u003e\u003c\/strong\u003e\u003cspan\u003ewithin minutes.\u003c\/span\u003e\u003cstrong\u003e \u003c\/strong\u003e\u003c\/p\u003e\n\u003cp\u003e \u003cstrong\u003ePOWER SWITCH™\u003c\/strong\u003e isn't done yet!! With the addition of Key Amino Acids and \u003cstrong\u003eVASO6™ \u003c\/strong\u003eThings are just getting started and the flood gates are opened.\u003c\/p\u003e\n\u003cmeta charset=\"utf-8\"\u003e\n\u003cp\u003e\u003cimg src=\"https:\/\/cdn.shopify.com\/s\/files\/1\/1797\/0325\/files\/vaso6_black_large.png?v=1520309492\"\u003e\u003c\/p\u003e\n\u003cmeta charset=\"utf-8\"\u003e\n\u003cp\u003e\u003cspan\u003eYou can expect some \u003c\/span\u003e\u003cstrong\u003eNEXT LEVEL PUMPS\u003c\/strong\u003e\u003cspan\u003e leading to greater workout experience and faster nutrient recovery.\u003c\/span\u003e\u003cbr\u003e\u003cbr\u003eOur NEW FORMULA focuses on increasing performance and vasodilation (pump) with the addition of 3,000mg of Citrulline Malate, 2,000mg of Beta Alanine, Critical Co-Factors and and 300mg of VASO6\u003cstrong\u003e™. \u003cbr\u003eVASO6™ \u003c\/strong\u003eis a concentrated extract known as a gallate-enhanced oligomer procyanidin found in green tea or grape seed extract.\u003c\/p\u003e\n\u003cp\u003e\u003cstrong\u003eVASO6™ \u003c\/strong\u003ewhen dosed at 300mg boosts Nitric Oxide (NO2) \u003cstrong\u003e10X GREATER\u003c\/strong\u003e than 7g of Arginine. You can expect some \u003cstrong\u003ePOWERFUL PUMPS\u003c\/strong\u003ewith the \u003cstrong\u003eNEW POWER SWITCH™\u003c\/strong\u003e formula.\u003c\/p\u003e\n\u003cp\u003e\u003cstrong\u003eYou will power through every rep and every set with INTENSITY you never thought possible.\u003c\/strong\u003e\u003c\/p\u003e\n\u003cmeta charset=\"utf-8\"\u003e\n\u003cp\u003e\u003cimg src=\"https:\/\/cdn.accentuate.io\/7629538757\/33903985477\/Power-Product-Icons-New.jpg?900x450\" alt=\"Icons\" width=\"512\" height=\"256\"\u003e\u003c\/p\u003e\n\u003cp\u003e \u003c\/p\u003e\n\u003cmeta charset=\"utf-8\"\u003e\u003cmeta charset=\"utf-8\"\u003e\n\u003cp\u003e\u003cstrong\u003e\u003cimg src=\"https:\/\/encrypted-tbn0.gstatic.com\/images?q=tbn:ANd9GcR14xh5_-JfSsDUP2GVsoiwyHyccu36OQ5UoAcs7zsq7B5qp0UZ\" alt=\"Image result for Keto friendly\"\u003e\u003cbr\u003e\u003cbr\u003eNOTE: DO NOT EXCEED MORE THAN 2 SCOOPS OF POWER SWITCH IN A 24 HOUR PERIOD!\u003c\/strong\u003e\u003c\/p\u003e\n\u003cmeta charset=\"utf-8\"\u003e\n\u003ch2\u003e\u003ca href=\"https:\/\/keto-source-new-zealand.myshopify.com\/pages\/power-switch\"\u003e\u003cstrong style=\"color: #0000ff;\"\u003e\u003cspan color=\"#0000ff\"\u003ePower Switch FAQ's\u003c\/span\u003e\u003c\/strong\u003e\u003c\/a\u003e\u003c\/h2\u003e\n\u003cp\u003e\u003cem\u003eThe above information is merely a guide and is in no way a recommendation or a treatment protocol for any health conditions or diseases. You should always consult with a qualified health care provider before changing your supplement, training or nutritional strategy. Supplementation should not be attempted by pregnant or breastfeeding women, anyone on prescription medication or children under the age of 15 unless advised by your qualified health care provider.\u003c\/em\u003e\u003c\/p\u003e\n\u003cp\u003e \u003c\/p\u003e","published_at":"2019-05-07T10:03:05+12:00","created_at":"2019-05-07T10:03:05+12:00","vendor":"vendor-unknown","type":"All Products","tags":["Supplement"],"price":6995,"price_min":6995,"price_max":6995,"available":true,"price_varies":false,"compare_at_price":7995,"compare_at_price_min":7995,"compare_at_price_max":7995,"compare_at_price_varies":false,"variants":[{"id":15245253181485,"title":"Grape","option1":"Grape","option2":null,"option3":null,"sku":"0004-0","requires_shipping":true,"taxable":false,"featured_image":{"id":5415076233261,"product_id":1807127380013,"position":1,"created_at":"2019-05-07T10:03:36+12:00","updated_at":"2019-07-14T16:23:12+12:00","alt":"PowerSwitch-30serve - grape.png","width":2014,"height":2519,"src":"https:\/\/cdn.shopify.com\/s\/files\/1\/0031\/0299\/8573\/products\/02346f_8bf3dd03d2564c96b612e01cdaf82ad0_mv2_d_2014_2519_s_2.png?v=1563078192","variant_ids":[15245253181485,15245253214253,15245253247021]},"available":true,"name":"Power Switch - Grape","public_title":"Grape","options":["Grape"],"price":6995,"weight":0,"compare_at_price":7995,"inventory_management":"shopify","barcode":""},{"id":15245253214253,"title":"Mango","option1":"Mango","option2":null,"option3":null,"sku":"0004-1","requires_shipping":true,"taxable":false,"featured_image":{"id":5415076233261,"product_id":1807127380013,"position":1,"created_at":"2019-05-07T10:03:36+12:00","updated_at":"2019-07-14T16:23:12+12:00","alt":"PowerSwitch-30serve - grape.png","width":2014,"height":2519,"src":"https:\/\/cdn.shopify.com\/s\/files\/1\/0031\/0299\/8573\/products\/02346f_8bf3dd03d2564c96b612e01cdaf82ad0_mv2_d_2014_2519_s_2.png?v=1563078192","variant_ids":[15245253181485,15245253214253,15245253247021]},"available":true,"name":"Power Switch - Mango","public_title":"Mango","options":["Mango"],"price":6995,"weight":0,"compare_at_price":7995,"inventory_management":"shopify","barcode":""},{"id":15245253247021,"title":"Raspberry Lemonade","option1":"Raspberry Lemonade","option2":null,"option3":null,"sku":"0004-2","requires_shipping":true,"taxable":false,"featured_image":{"id":5415076233261,"product_id":1807127380013,"position":1,"created_at":"2019-05-07T10:03:36+12:00","updated_at":"2019-07-14T16:23:12+12:00","alt":"PowerSwitch-30serve - grape.png","width":2014,"height":2519,"src":"https:\/\/cdn.shopify.com\/s\/files\/1\/0031\/0299\/8573\/products\/02346f_8bf3dd03d2564c96b612e01cdaf82ad0_mv2_d_2014_2519_s_2.png?v=1563078192","variant_ids":[15245253181485,15245253214253,15245253247021]},"available":true,"name":"Power Switch - Raspberry Lemonade","public_title":"Raspberry Lemonade","options":["Raspberry Lemonade"],"price":6995,"weight":0,"compare_at_price":7995,"inventory_management":"shopify","barcode":""}],"images":["\/\/cdn.shopify.com\/s\/files\/1\/0031\/0299\/8573\/products\/02346f_8bf3dd03d2564c96b612e01cdaf82ad0_mv2_d_2014_2519_s_2.png?v=1563078192","\/\/cdn.shopify.com\/s\/files\/1\/0031\/0299\/8573\/products\/02346f_367884538cae45e5bac7826e60ba9ef7_mv2.png?v=1563078192","\/\/cdn.shopify.com\/s\/files\/1\/0031\/0299\/8573\/products\/02346f_086238598e204a0f858b5a84328a934f_mv2.jpg?v=1563078192"],"featured_image":"\/\/cdn.shopify.com\/s\/files\/1\/0031\/0299\/8573\/products\/02346f_8bf3dd03d2564c96b612e01cdaf82ad0_mv2_d_2014_2519_s_2.png?v=1563078192","options":["Flavours"],"content":"\u003cp\u003e\u003cstrong\u003ePOWER SWITCH\u003c\/strong\u003e\u003cstrong\u003e™\u003c\/strong\u003e is an explosive combination of ingredients designed to provide the ultimate training experience.\u003c\/p\u003e\n\u003cp\u003e\u003cspan\u003eIt contains a blend of Caffeine, Citrus Aurantium, Naturally Occurring L-Theanine, Taurine and Kudcha Tea\u003c\/span\u003e\u003cstrong\u003e.\u003cspan\u003e \u003c\/span\u003e\u003c\/strong\u003e\u003cspan\u003eThe powerful fast acting benefits will have you\u003c\/span\u003e\u003cstrong\u003e\u003cspan\u003e \u003c\/span\u003ePOWERED UP\u003cspan\u003e \u003c\/span\u003e\u003c\/strong\u003e\u003cspan\u003ewithin minutes.\u003c\/span\u003e\u003cstrong\u003e \u003c\/strong\u003e\u003c\/p\u003e\n\u003cp\u003e \u003cstrong\u003ePOWER SWITCH™\u003c\/strong\u003e isn't done yet!! With the addition of Key Amino Acids and \u003cstrong\u003eVASO6™ \u003c\/strong\u003eThings are just getting started and the flood gates are opened.\u003c\/p\u003e\n\u003cmeta charset=\"utf-8\"\u003e\n\u003cp\u003e\u003cimg src=\"https:\/\/cdn.shopify.com\/s\/files\/1\/1797\/0325\/files\/vaso6_black_large.png?v=1520309492\"\u003e\u003c\/p\u003e\n\u003cmeta charset=\"utf-8\"\u003e\n\u003cp\u003e\u003cspan\u003eYou can expect some \u003c\/span\u003e\u003cstrong\u003eNEXT LEVEL PUMPS\u003c\/strong\u003e\u003cspan\u003e leading to greater workout experience and faster nutrient recovery.\u003c\/span\u003e\u003cbr\u003e\u003cbr\u003eOur NEW FORMULA focuses on increasing performance and vasodilation (pump) with the addition of 3,000mg of Citrulline Malate, 2,000mg of Beta Alanine, Critical Co-Factors and and 300mg of VASO6\u003cstrong\u003e™. \u003cbr\u003eVASO6™ \u003c\/strong\u003eis a concentrated extract known as a gallate-enhanced oligomer procyanidin found in green tea or grape seed extract.\u003c\/p\u003e\n\u003cp\u003e\u003cstrong\u003eVASO6™ \u003c\/strong\u003ewhen dosed at 300mg boosts Nitric Oxide (NO2) \u003cstrong\u003e10X GREATER\u003c\/strong\u003e than 7g of Arginine. You can expect some \u003cstrong\u003ePOWERFUL PUMPS\u003c\/strong\u003ewith the \u003cstrong\u003eNEW POWER SWITCH™\u003c\/strong\u003e formula.\u003c\/p\u003e\n\u003cp\u003e\u003cstrong\u003eYou will power through every rep and every set with INTENSITY you never thought possible.\u003c\/strong\u003e\u003c\/p\u003e\n\u003cmeta charset=\"utf-8\"\u003e\n\u003cp\u003e\u003cimg src=\"https:\/\/cdn.accentuate.io\/7629538757\/33903985477\/Power-Product-Icons-New.jpg?900x450\" alt=\"Icons\" width=\"512\" height=\"256\"\u003e\u003c\/p\u003e\n\u003cp\u003e \u003c\/p\u003e\n\u003cmeta charset=\"utf-8\"\u003e\u003cmeta charset=\"utf-8\"\u003e\n\u003cp\u003e\u003cstrong\u003e\u003cimg src=\"https:\/\/encrypted-tbn0.gstatic.com\/images?q=tbn:ANd9GcR14xh5_-JfSsDUP2GVsoiwyHyccu36OQ5UoAcs7zsq7B5qp0UZ\" alt=\"Image result for Keto friendly\"\u003e\u003cbr\u003e\u003cbr\u003eNOTE: DO NOT EXCEED MORE THAN 2 SCOOPS OF POWER SWITCH IN A 24 HOUR PERIOD!\u003c\/strong\u003e\u003c\/p\u003e\n\u003cmeta charset=\"utf-8\"\u003e\n\u003ch2\u003e\u003ca href=\"https:\/\/keto-source-new-zealand.myshopify.com\/pages\/power-switch\"\u003e\u003cstrong style=\"color: #0000ff;\"\u003e\u003cspan color=\"#0000ff\"\u003ePower Switch FAQ's\u003c\/span\u003e\u003c\/strong\u003e\u003c\/a\u003e\u003c\/h2\u003e\n\u003cp\u003e\u003cem\u003eThe above information is merely a guide and is in no way a recommendation or a treatment protocol for any health conditions or diseases. You should always consult with a qualified health care provider before changing your supplement, training or nutritional strategy. Supplementation should not be attempted by pregnant or breastfeeding women, anyone on prescription medication or children under the age of 15 unless advised by your qualified health care provider.\u003c\/em\u003e\u003c\/p\u003e\n\u003cp\u003e \u003c\/p\u003e"}